SMALL STEPS LEAD TO GREATER HEIGHTS!

KLSM Webinar – Keeping It's Seafarers Abreast With Latest – In New Normal

In these Pandemic times, travel restrictions and other precautions in force, have made it impossible for companies to organise the regular events like annual Seminars

KLSM 19B Seminar held in Hyderabad 2019

Celebrating a centenary is a historical event and Hyderabad was aptly chosen to host the seminar, famous for Historic Monuments like Charminar, Golconda Fort

KLSM 19A Seminar held in Mumbai 2019

KLSM Group Celebrates A Century, And Hosts Various Initiatives For Safety Culture On Board

KLSM 18B Seminar held in Goa 2018

KLSM Group's success - solely depends on its assets – The Seafarers

KLSM 18A Seminar held in Mumbai 2018

KLSM Group Safety is of paramount importance that cannot be compromised for any shipping company

KLSM 17B Seminar held in Goa 2017

The shipping industry is undergoing constant technical and legislative improvements with upcoming

KLSM 17A Seminar held in Mumbai 2017

K Line Ship Management Group, having the head office in Tokyo, and branches / subsidiaries in Singapore, Manila, Mumbai

KLSM 16B Seminar held in Goa on 15 & 16 of November 2016

K-Line Ship Management (KLSM) held its 16th Annual Seminar in India, 2nd Edition, "Seminar 16B" in Goa on November 15 and 16.

KLSM 16A Seminar held in Mumbai on 12 & 13 of July 2016

'K' Line Ship Management (KLSM) recently held the first chapter of their Annual Seminar, a two-day event, to interact with their valued assets – The Seafarers.

KLSM 15B Seminar held in Mumbai on 19th & 20th of November 2015

Praises Seafarers for 'Zero Observations' at Vetting Inspections, Across the Fleet.

KLSM 15A Seminar held in Chennai on 13 & 14 of July 2015

The 15(A) Chennai Seminar was held this year at MGM Resort on 13th & 14th of July, 2015.

KLSM 14B Seminar held in Mumbai on 19 & 20 November 2014

K Line acclaims its seafarers for another step towards the aim of "Zero Accidents" & Zero Injuries".

KLSM 14A Seminar held in Chennai on 14 & 15 July 2014

The 14(A) Chennai Seminar was held this year at MGM Resort on 14th & 15th of July, 2014.

NORDIC RIVER" rescued an injured adventurer from Indian Ocean

One of our managing Ammonia Carrier, M/V "NORDIC RIVER", received an urgent rescue request from RCC Australia at 0150 Local Time on the 11th of July,

KLSM (Tokyo) Organization changes effective from 01st JULY 2014

I would like to inform you of the company board organization changes as per the resolution of Ordinary General Meeting of Shareholders and Board of Directors Meeting on June 26th 2014.

KLSM (India) Expands Into Ship Management Business

KLSM India, proudly announces, that quickly following on the agreement in respect of ship inspection business with "K" Line (India) Pvt Ltd,

KLSM 13B Seminar Held In Mumbai on 21 & 22 November 2013

The KLSM Annual Seminar 13B was held at Hotel Satkar Residency in Thane on 21st and 22nd November, 2013.

KLSM (INDIA) Enters into Agreement with "K" LINE (INDIA) for Ship Inspection Business

KLSM (India) is pleased to announce that we have entered into an agreement with "K" Line (India) Pvt. Ltd.,

KLSM 13A Seminar Held In Chennai on 16 & 17 July 2013

The 13th (A) annual seminar was held at Chennai, at MGM Resort, on the 16th and 17th July 2013.

Change Of Command At KLSM INDIA

In End of March 2013, Capt. Takehiko Ibusuki, C.E.O & M. D. of KLSM INDIA since formation.

Proud Achievement: MLC 2006 Certification

Today 12th Dec. 2012, (12.12.12.) was as historic for us as it is for this century.

KLSM Annual Seminar held in Mumbai 20 & 21 November 12

The 12 th (B) annual seminar was held at Mumbai, Ramada Hotel on the 20th and 21st November 2012.

KLSM Annual Seminar held in Chennai 10 & 11 July '12

The 12 th (A) annual seminar was held at Chennai, Hotel Accord International on the 10th and 11th July 2012.

KLSM Annual Seminar held in Mumbai 28 & 29 November '11

The 11th annual seminar was held at hotel Ramada Powai on the 28th and 29th of Nov 2011.
KLSM Mumbai KKK President Mr Jiro Asakura Visits On Dussera Day The President of K-Line (KKK, Japan), one of the big 3 in Japan
read more...
The third and last of 2011 series of "Quality Improvement Session" ( or Mini-Seminar ) with Senior Officers from KLSM Pool was held at Mumbai
read more...
Having held the first edition of 2011 "Quality Improvement Session" ( or Mini-Seminar ) with Senior Officers from KLSM Pool at Chennai in May, the Second such event was organized at New Delhi on 26/July/2011 at Hyatt Regency.
read more...
The first edition of 2011 "Quality Improvement Session" ( or Mini-Seminar ) with Senior Officers from KLSM Pool was organized at Chennai on 24/May/2011.
read more...
Promoting transparency is the key to better understanding between top management and the employees.
read more...
The second "Senior Officers Quality Improvement Sessions" cum social gathering was held for Western region of India on July 26, 2010
read more...
The first "KLSM Mini Seminar" was held for South India region on May 22, 2010
KLSM 9th Seminar held in Mumbai, 4th & 5th November '09
Panama Consul General Mr. Julio Guardia paid a courtesy visit to KLSM Mumbai office on 1st August 2009.

KLSM : Promoting excellence Chennai seminar underlines efficiency & teamwork

Words from the wise during tough times
Mr. Kuboshima's Mantra: Focus on Training & Quality

BOX Treat Retreat
The families of the seminar participants were not confined to the hotel
rooms- in fact they remained very active, mainly outdoors.

Advocating a
'Slow & Steady'
path to attracting and retaining seagoing staff

Incoming KLSM President's Message: "Your problems are our problems"

To rise rapidly above the safety & quality standards of the industry is the call of the hour

KLSM President Mr. S Maeda

"K" Line Ship Management (India) Pvt Ltd, Mumbai is proud to announce that we are now an ISO certified company since 27th August 2007.

First branch office in Chennai

"K" Line Ship Management Company (India) Pvt Limited (KLSM India) is steaming full ahead and spreading its wings in to reach areas beyond the shores of Mumbai.
KLSM Webinar – Keeping It's Seafarers Abreast With Latest – In New Normal
In these Pandemic times, travel restrictions and other precautions in force, have made it impossible for companies to organise the regular events like annual Seminars, for keeping their seafarers updated on the latest developments in maritime domain, as well as to stand together and build upon the mutual relationship, and support from top management. As a part of our 'new normal' since lockdown, world has been attending online courses, sharing knowledge and expertise, which in turn has helped us to understand the 'on the ground' challenges. The crisis has suddenly made the industry go digital and hosts the usual meetings and briefings online. This was exactly what KLSM did to keep its seafarers in sync with the latest updates in the company and the industry overall along with keeping them abreast with the changes the Covid scenario has brought to the global shipping.

With this aim, KLSM India recently hosted a Webinar for its seafarers, which witnessed the company's senior leaders briefing the seafarers over 2 days and preparing them for their sailing days amidst Covid crisis. The webinar was hosted on 24th and 25th September, and witnessed KLSM & K-ENE's dignitaries from Tokyo, Singapore, Manila, Indonesia, and Mumbai and seafarers attending the session from the comforts of their homes across the globe.

Distanced yet together, the KLSM team reaped the opportunity and made the seafarers aware on the safety requirements ahead of times. They also discussed the past incidents and shared the lessons learnt with each other, as part of continuous efforts to improve efficiency and knowledge within the company.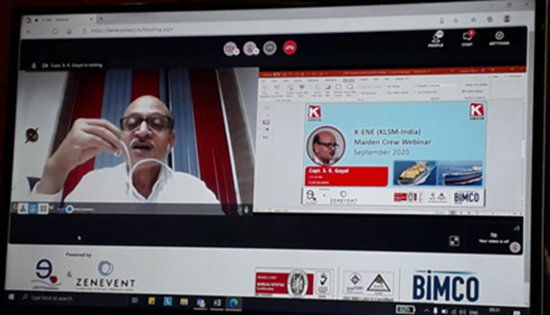 Greeting the seafarers and welcoming them to KLSM's webinar was Capt S. K. Goyal, CEO and Managing Director, KLSM India. He shed light on the difficulties seafarers faced during these times of crisis, and how it has brought them to the forefront – because the essential supplies and global trade continued only due to the due diligence of the dedicated seafarers, while the world had total shut-downs / lock-downs, which are only partially unlocked even today. Seafarers are the unsung heroes of all times, and a true asset as a Covid-19 Warrior in these extremely difficult times, yet more cohesive action at a global level is needed to ensure timely crew reliefs. Recognising the problems and negative stress from obstacles to timely reliefs that can harm individuals and their work performance, K-ENE has made efforts to facilitate Seafarers to stay connected with their families and concentrate on their performance.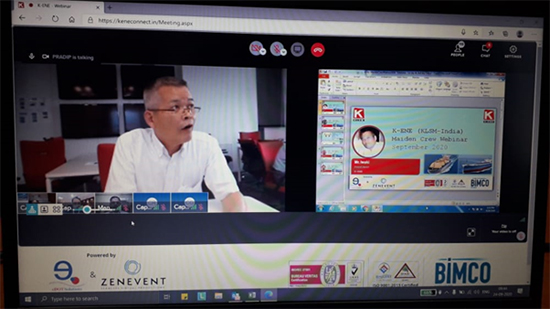 The President of K-ENE Tokyo, Mr Hiroyuki Iwaki, addressed the large audience, thanking the Seafarers for their relentless efforts, hard work, dedication and passion for profession which made them deliver their best at sea, despite the growing difficulties around. The recent maritime disasters in Indian Ocean were alarming events that bring disrepute to Seafaring profession, and therefore continuous training and skill enhancement is necessary for Seafarers, he stressed. maritime he termed them the true Covid-19 warriors and stressed on why they rightly deserve the key worker status.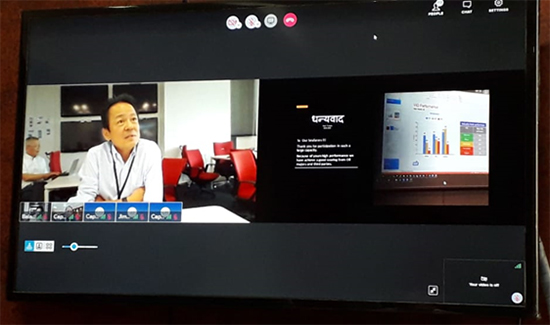 This was further agreed upon, and shared by Capt Shoji Fukuda, Director, K-ENE Tokyo. He Opined that the Shipping Industry has continuously served the world trade, moving the essential goods that are imperative for maintaining essential services – inspite of difficulties encountered in port & terminal access from Covid-19 Restrictions. Curtailment of flights, shutting down of Consular Services, and quarantine requirements have impacted mariners and their families, and he stressed that the Seafarers rightly deserve the status as "key worker".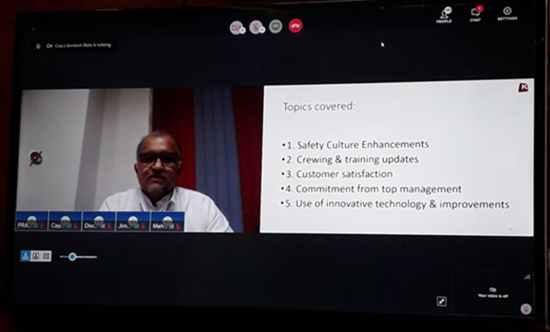 Update on improvements, customer's expectations, and results obtained, was provided by Capt. Rele, KLSM QCG-DGM. He briefed the seafarers on what is expected from them, for ensuring safe voyages amidst Covid-19 crisis. Meeting customer expectation is the key, often not so easy, but certainly not impossible. Seafarers were asked to have the mindset, and clear expectation, from the start and keep their customer centric approach to make informed decisions. Also, the importance of collecting customer feedback on a regular basis was emphasised, to mould as per customer's expectation. The seafarers too reciprocated positively to the session, and various queries were resolved, enlightening the seafarers of the changes that have been implemented in the wake of Covid-19.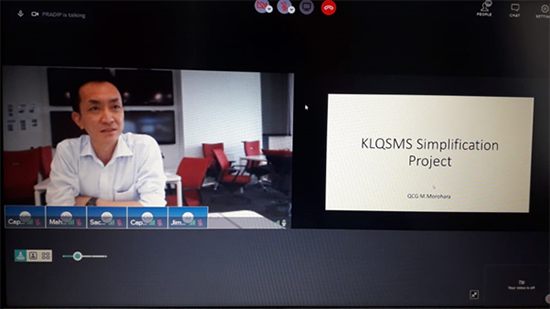 K-ENE has undertaken a thorough process of KLQSMS simplification, & review of contents with the aim of keeping in step with changing times. The project update was given by Capt. Michinori Morohara ( Group Leader & DPA K-ENE Tokyo QCG ).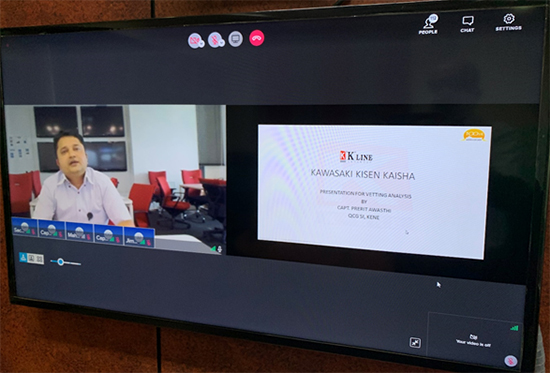 Capt Prerit Awasthi, SI K-ENE Tokyo – QCG, provided an update on vetting and inspections along with an update on K-ENE's revised alcohol procedure. As a wellness trend, one needs to stand committed to drink less for health reasons, and beverage industry is also supporting this trend by innovating "Alcohol Free Beer" – which is no less than the Beer that we have been used to for decades.

Cyber Security is the latest threat for Shipping Industry, as well as there is need for IT Support to Seafarers on board. These topics were discussed in reasonable detail by Capt. Ruchin Dayal of e-DOT Solutions, the team of professionals who had provided the digital platform for this Webinar being hosted. Software being the focus of this session, the ongoing shift from having several of them, to one integrated software to cover all aspects of ship management at K-ENE Tokyo ( named as K-ENE KONeCT ) was introduced to the audience by Mr. Tyler Sadoff of "Bay Current".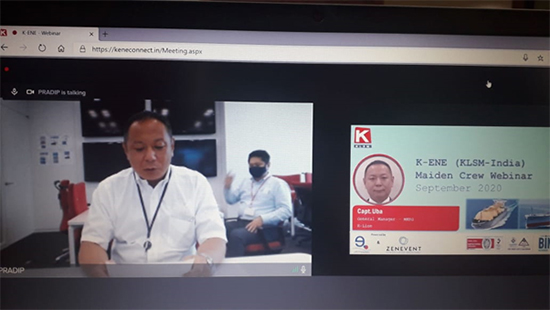 Day 2 of the Webinar began with address from Capt. Hiroaki Uba, (General Manager – Marine Human Resources Group – KKK Tokyo ), who thanked all Seafarers for their excellent co-operation, and patience, in COVID-19 pandemic. He expressed his satisfaction for K-ENE's efforts to carry out crew reliefs irrespective of high costs and numerable obstacles to achieve them.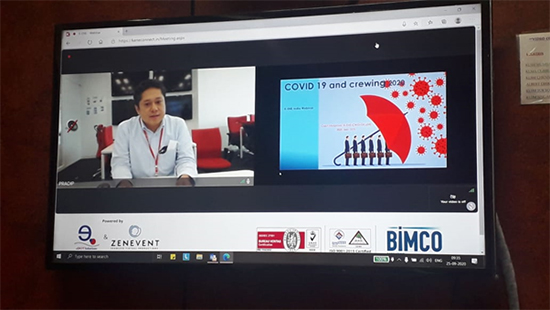 The situation with COVID-19, and the effects on crewing, was also discussed by Capt. Yusuke Miyazawa, Group Leader CWG K-ENE Tokyo. He spoke on the plight of seafarers that has become a humanitarian and safety crisis, and stressed on fatigue, and issues with mental health, which he opined are directly related to present circumstances. Long periods spent aboard ships without being able to disembark, separation from families, fear of infection – all these things are a heavy burden to bear, now more than ever, he added. He also spoke to the seafarers to prepare them for the challenging times ahead as the pandemic has not ended yet.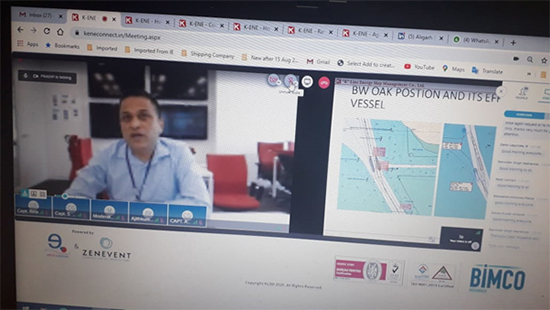 The focus then shifted on the discussions and lessons learnt from incidents in the fleet. Separate sessions for Deck Officers and Engineers were arranged at same time using separate Webinar meeting rooms, overcoming all barriers to make this on-line event to be as close to physical classrooms as can be possible. Capt Pradip Bhaumik, K-ENE Tokyo – QCG/NAVRES, shared the insights and learnings from K-ENE's incidents, and case studies with findings, with special highlights on safety of navigation in fleet, and overview of past one year.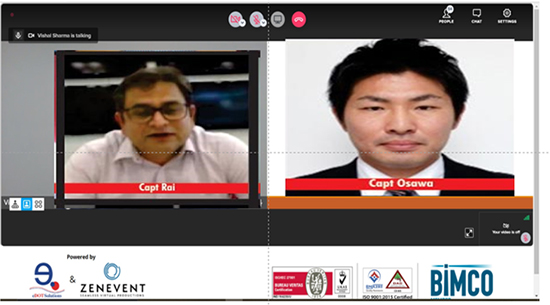 Capt.Rakesh Rai, MSG-SI K-ENE Tokyo, then discussed the role of Berthing Master in Japanese Ports, and the relationship between the Ship's Staff & Berthing Master. Capt. Satoru Osawa MSG-SI K-ENE Tokyo, then spoke about incidents related to cargo operations, and related case studies.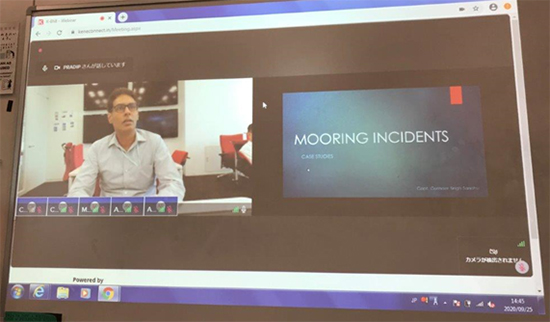 Thereafter, Capt. Gurinder Sandhu, MSG-SI K-ENE Tokyo, stressed on the safety during Mooring Operation with examples of good practices, contributed by on-board staff, and reminded the vision of Zero injury to all staff.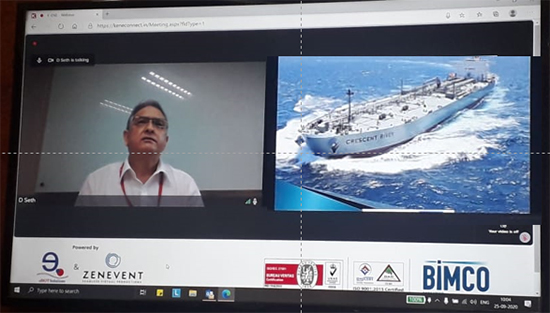 The session for Engineers was also very informative, where Mr Deepak Seth, General Manager KLSM SGP briefed the participants on lessons learned from incidents and near misses.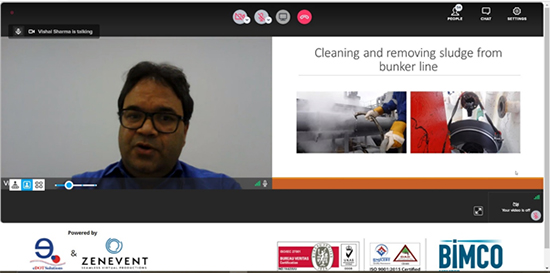 Mr.Vishal Sharma, Chief Auditor QCG K-ENE Tokyo, explained about case study covering VLSFO.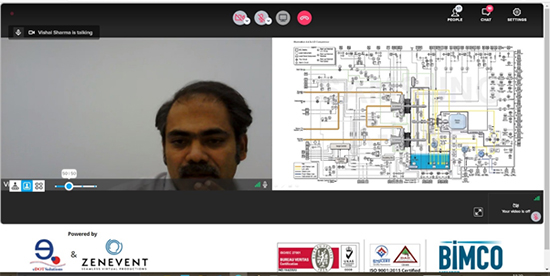 Mr Saji Paul, CTSI K-ENE TLNG, discussed Safe Handling Techniques, with case study on High Voltage Motor, which was the last topic for separated Webinar meeting rooms. Subsequently, everyone reunited and the proceedings continues as usual.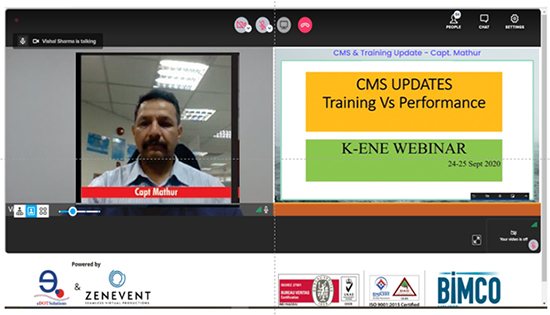 The CMS System, the in-house developed comprehensive training tool, was then taken up and Capt Rajan Mathur, A.G.M. KLSM Singapore provided the update on the improvements and amendments over last one year.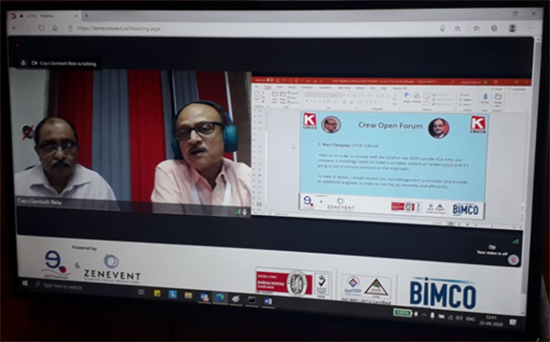 The "Open Forum" followed, where the Seafarers brought up their comments and queries, using "chat" option which was decent enough, although not comparable to having it in proper conference hall.

The Loyalty Award were then announced for Seafarers who have completed 7 years of continuous service in the company, and more importantly 15 years of loyalty.

Appreciation certificates and the beautiful selection of watches as Loyalty Rewards was displayed, to be handed out once normalcy returns. The senior management team leaves no stones unturned, in motivating the Seafarers in all possible ways, thus concluding the Safety Webinar.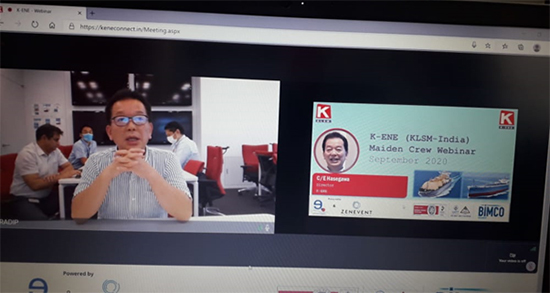 Mr. Tsukasa Hasegawa, Director K-ENE Tokyo, then thanked all participants for their contribution in taking forward the VISION of K-ENE and goal of zero accident.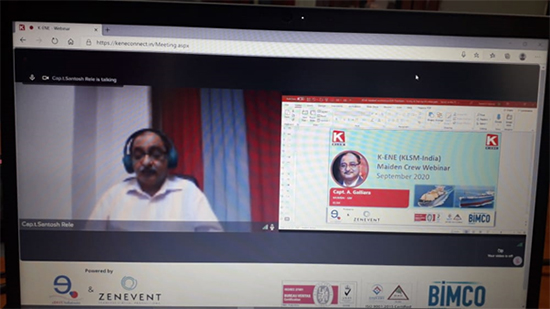 Capt. Amar Galliara, General Manager KLSM India, was quite emotional in his thanksgiving speech, as he approaches the planned retirement at year end, having served in various positions for 22 years in the organisation.

With the challenges that lies ahead, this approach seems to be the way ahead for some time now. Like always, KLSM once again stressed on the Safety of the Seafarers, with firm belief that fatigued seafarers cannot deliver their best, which increases the probability of making mistakes. It is now time for the global maritime industry to come together and find practical solution to the ongoing crisis with crew reliefs, whilst ensuring that the global supply chains are maintained as well. It is a matter of great satisfaction for K-ENE that despite many challenges and difficulties, there is NIL overdue relief across the fleet as on date, and the efforts shall continue to utilise every opportunity, to ensure the comforts of their most prized asset—their seafarers.

This next decade presents us with immense opportunities, bringing in possibilities for new business as the world settles down in "new normal". Change is a continuous process, and Shipping Industry needs to ensure that new skills and competencies are embraced, for the journey towards new horizon, which will surely have new challenges, as well as new opportunities.

Webinar was the need of these difficult times, to continue the connection between the Top Management and Seafarers. But, it can only be an interim measure, and only until the time normalcy returns in our lives, which will pave the way for having the regular Seminar like we have had for past two decades. We look forward to the next year, and to an early end of this pandemic – meantime, wishing the best of health to all seafarers, as we support each other for overcoming this COVID-19 pandemic, together.