SMALL STEPS LEAD TO GREATER HEIGHTS!

KLSM 19B Seminar held in Hyderabad 2019

Celebrating a centenary is a historical event and Hyderabad was aptly chosen to host the seminar, famous for Historic Monuments like Charminar, Golconda Fort

KLSM 19A Seminar held in Mumbai 2019

KLSM Group Celebrates A Century, And Hosts Various Initiatives For Safety Culture On Board

KLSM 18B Seminar held in Goa 2018

KLSM Group's success - solely depends on its assets – The Seafarers

KLSM 18A Seminar held in Mumbai 2018

KLSM Group Safety is of paramount importance that cannot be compromised for any shipping company

KLSM 17B Seminar held in Goa 2017

The shipping industry is undergoing constant technical and legislative improvements with upcoming

KLSM 17A Seminar held in Mumbai 2017

K Line Ship Management Group, having the head office in Tokyo, and branches / subsidiaries in Singapore, Manila, Mumbai

KLSM 16B Seminar held in Goa on 15 & 16 of November 2016

K-Line Ship Management (KLSM) held its 16th Annual Seminar in India, 2nd Edition, "Seminar 16B" in Goa on November 15 and 16.

KLSM 16A Seminar held in Mumbai on 12 & 13 of July 2016

'K' Line Ship Management (KLSM) recently held the first chapter of their Annual Seminar, a two-day event, to interact with their valued assets – The Seafarers.

KLSM 15B Seminar held in Mumbai on 19th & 20th of November 2015

Praises Seafarers for 'Zero Observations' at Vetting Inspections, Across the Fleet.

KLSM 15A Seminar held in Chennai on 13 & 14 of July 2015

The 15(A) Chennai Seminar was held this year at MGM Resort on 13th & 14th of July, 2015.

KLSM 14B Seminar held in Mumbai on 19 & 20 November 2014

K Line acclaims its seafarers for another step towards the aim of "Zero Accidents" & Zero Injuries".

KLSM 14A Seminar held in Chennai on 14 & 15 July 2014

The 14(A) Chennai Seminar was held this year at MGM Resort on 14th & 15th of July, 2014.

NORDIC RIVER" rescued an injured adventurer from Indian Ocean

One of our managing Ammonia Carrier, M/V "NORDIC RIVER", received an urgent rescue request from RCC Australia at 0150 Local Time on the 11th of July,

KLSM (Tokyo) Organization changes effective from 01st JULY 2014

I would like to inform you of the company board organization changes as per the resolution of Ordinary General Meeting of Shareholders and Board of Directors Meeting on June 26th 2014.

KLSM (India) Expands Into Ship Management Business

KLSM India, proudly announces, that quickly following on the agreement in respect of ship inspection business with "K" Line (India) Pvt Ltd,

KLSM 13B Seminar Held In Mumbai on 21 & 22 November 2013

The KLSM Annual Seminar 13B was held at Hotel Satkar Residency in Thane on 21st and 22nd November, 2013.

KLSM (INDIA) Enters into Agreement with "K" LINE (INDIA) for Ship Inspection Business

KLSM (India) is pleased to announce that we have entered into an agreement with "K" Line (India) Pvt. Ltd.,

KLSM 13A Seminar Held In Chennai on 16 & 17 July 2013

The 13th (A) annual seminar was held at Chennai, at MGM Resort, on the 16th and 17th July 2013.

Change Of Command At KLSM INDIA

In End of March 2013, Capt. Takehiko Ibusuki, C.E.O & M. D. of KLSM INDIA since formation.

Proud Achievement: MLC 2006 Certification

Today 12th Dec. 2012, (12.12.12.) was as historic for us as it is for this century.

KLSM Annual Seminar held in Mumbai 20 & 21 November 12

The 12 th (B) annual seminar was held at Mumbai, Ramada Hotel on the 20th and 21st November 2012.

KLSM Annual Seminar held in Chennai 10 & 11 July '12

The 12 th (A) annual seminar was held at Chennai, Hotel Accord International on the 10th and 11th July 2012.

KLSM Annual Seminar held in Mumbai 28 & 29 November '11

The 11th annual seminar was held at hotel Ramada Powai on the 28th and 29th of Nov 2011.
KLSM Mumbai KKK President Mr Jiro Asakura Visits On Dussera Day The President of K-Line (KKK, Japan), one of the big 3 in Japan
read more...
The third and last of 2011 series of "Quality Improvement Session" ( or Mini-Seminar ) with Senior Officers from KLSM Pool was held at Mumbai
read more...
Having held the first edition of 2011 "Quality Improvement Session" ( or Mini-Seminar ) with Senior Officers from KLSM Pool at Chennai in May, the Second such event was organized at New Delhi on 26/July/2011 at Hyatt Regency.
read more...
The first edition of 2011 "Quality Improvement Session" ( or Mini-Seminar ) with Senior Officers from KLSM Pool was organized at Chennai on 24/May/2011.
read more...
Promoting transparency is the key to better understanding between top management and the employees.
read more...
The second "Senior Officers Quality Improvement Sessions" cum social gathering was held for Western region of India on July 26, 2010
read more...
The first "KLSM Mini Seminar" was held for South India region on May 22, 2010
KLSM 9th Seminar held in Mumbai, 4th & 5th November '09
Panama Consul General Mr. Julio Guardia paid a courtesy visit to KLSM Mumbai office on 1st August 2009.

KLSM : Promoting excellence Chennai seminar underlines efficiency & teamwork

Words from the wise during tough times
Mr. Kuboshima's Mantra: Focus on Training & Quality

BOX Treat Retreat
The families of the seminar participants were not confined to the hotel
rooms- in fact they remained very active, mainly outdoors.

Advocating a
'Slow & Steady'
path to attracting and retaining seagoing staff

Incoming KLSM President's Message: "Your problems are our problems"

To rise rapidly above the safety & quality standards of the industry is the call of the hour

KLSM President Mr. S Maeda

"K" Line Ship Management (India) Pvt Ltd, Mumbai is proud to announce that we are now an ISO certified company since 27th August 2007.

First branch office in Chennai

"K" Line Ship Management Company (India) Pvt Limited (KLSM India) is steaming full ahead and spreading its wings in to reach areas beyond the shores of Mumbai.
KLSM Chooses Historical City of Hyderabad to Host Centenary Seminar
Celebrating a centenary is a historical event and Hyderabad was aptly chosen to host the seminar, famous for Historic Monuments like Charminar, Golconda Fort and Salar Jung Museum amongst many others, at the huge "Leonia Holistic Destination Resort". With over 60% of our workforce being the Millennials, "Cyberabad" – the futuristic name for old city, fitted in perfectly at the time when K Line is ushering into the next century, and preparing for the future.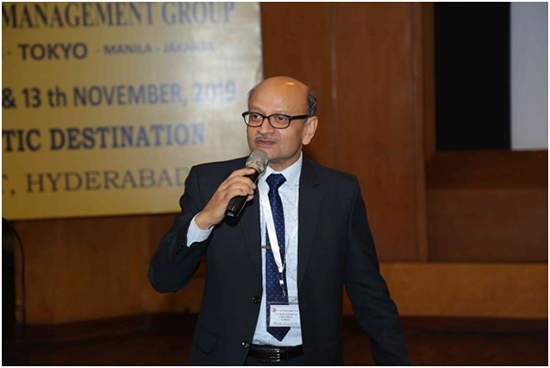 Welcoming the top management from Tokyo, Singapore and all the Delegates, Capt. Sudhir K. Goyal, CEO & Managing Director, KLSM (INDIA) urged everyone to make use of this event to interact with top management, and amongst themselves, to continue the efforts toward achieving Company's goals. The seminar like this provides an excellent opportunity for Seafarers to upgrade themselves, not only with the latest technology, regulations, practices, but also to exchange ideas for furthering their professional skills, and promote career growth.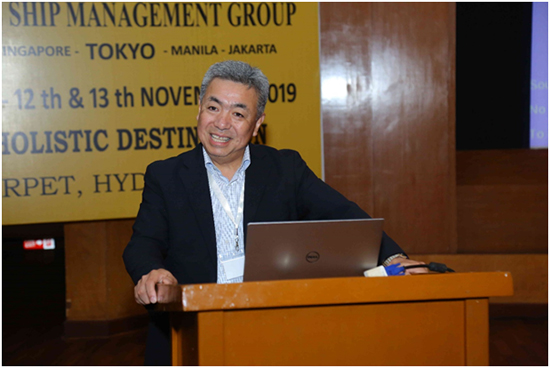 Mr. Iwane Ogawara, Sr. Managing Director, K-ENE Tokyo addressed the gathering and extended his appreciation for the good performance, and dedication, towards achieving Company's objectives. He recognised that the Indian Seafarers largely serve on Energy vessels of K-Line, and it is the Energy trade that has been making significant financial progress during last few years, in these turbulent and difficult times.

Mr. Iwane Ogawara once again stressed that the Seafarers are the biggest assets of the Company, and will remain so, in the foreseeable future. His encouraging words - "the worst was behind us, and the Company is now coming out of the deep trough, gradually improving its finances" – were cheered and welcomed by everybody. He emphasised on the need to continue the good work towards achieving the K-ENE's Vision of "Four Zero's" (Accident / Injury / Oil Spill / Detention).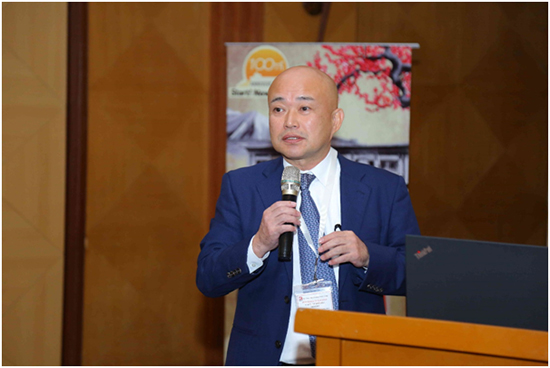 Capt. Akihiro Fujimaru, General Manager of Kawasaki Kisen Kaisha ( KKK MHRG ) then addressed the audience and presented the strategy of Kawasaki Group for next century, one of those will be the "Work Style Reforms" for bridging the glorious past with futuristic vision, and continue the journey into the next century. In addition, he spoke about the futuristic projects for sustainable growth of the Shipping Industry in general and KKK Group in particular.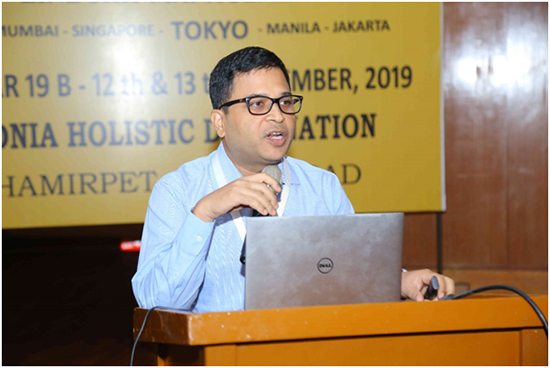 Capt. Pradip Bhaumik, QCG - K-ENE Tokyo, briefly discussed various case studies to demonstrate safe navigation under pilotage, and held a healthy discussion on clarity of the role that each member of Bridge Team has to perform, to ensure safe handling of vessel in congested waters.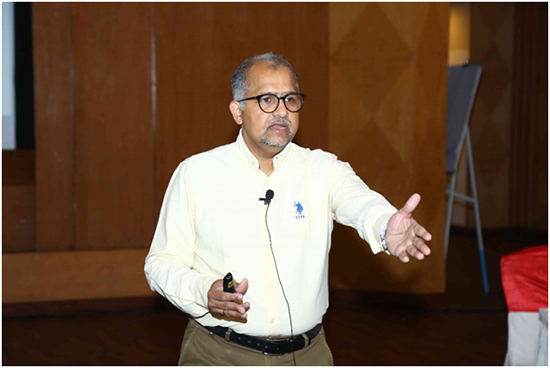 Capt. Santosh Rele, QCG - K-ENE Tokyo, spoke about Company's safety culture model. He updated the audience with the statistical data on the Company's performance, and Ranking, with respect to TMSA & HSSE assurance. The performance on the KPI's over the past years was discussed, in order to highlight the areas for further improvement.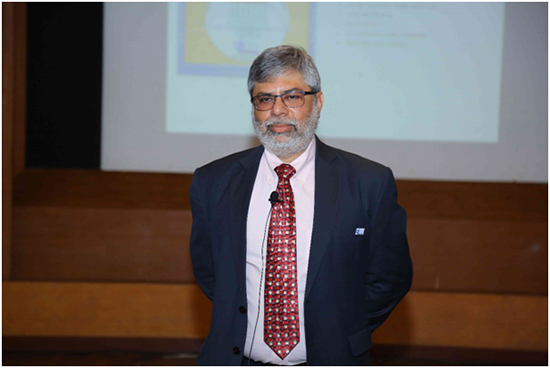 The stage was then handed over to external speaker, Capt. Suman Muddusetti, working with Shell Houston for over 3 (Three) decades. The topic he presented was - Achieving Predictable Outcomes – which highlighted the relationship between the set targets, the policies that must be designed for those targets, and the campaigns like Resilience, Partners In Safety, Reflective Learning and such. The data he presented was the testimony of how Shell has benefitted from those efforts, in terms of incident free days, and in terms of losses sustained from those incidents. The key take-away from his presentation was the understanding of demonstrated and direct links, to achieve predictable outcomes by setting HSSE standards and polices.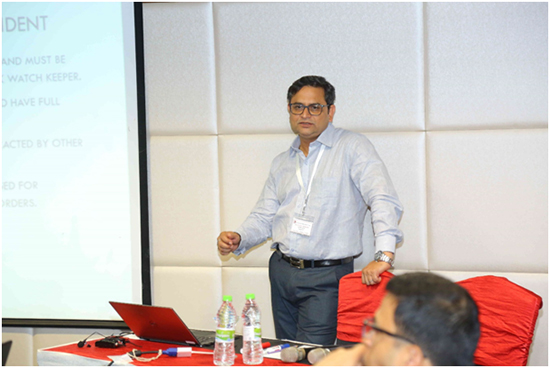 The delegates broke into two groups Deck & Engine after lunch break. Capt. Rakesh Rai, MSG – K-ENE Tokyo, addressed the Deck Officers and discussed various case studies within the Shipping Industry, related to Contact incidents with Tugs while berthing/unberthing, and errors made during Ballast and Cargo Operations. Near Miss Incidents related to Mooring Operations, and lessons learnt from various ECDIS related issues were shared by Capt. P. N. Bhaumik, QCG – K-ENE Tokyo, to enhance the awareness and to avoid making similar mistakes during the bridge watchkeeping. The counter measures brought about by the teams assigned, and the interactive exchanges, brought the key issues into focus and provided several ideas for further improvement. The intensity of the participation was commendable by all delegates.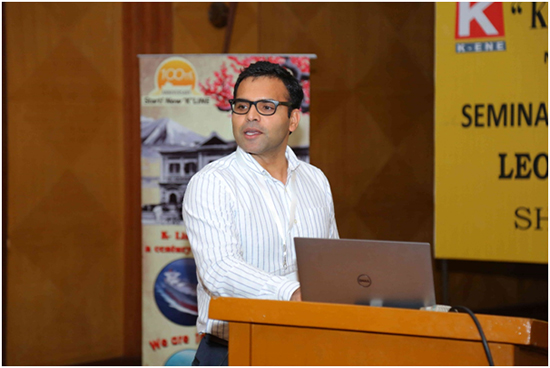 Engineers basically did the similar thing with case studies related to technical incident and issues related to M/E Exhaust valve. The hottest topic for Marine Engineers at present is the upcoming regulations for ''Global Sulphur cap 2020'' and indeed it was the highlight of this session, whereby everyone gained more knowledge, and latest updates, imparted by Mr. Iwane Ogawara. Mr. Rupesh Sinsinwar, TLNG K-ENE Tokyo, spoke about the forthcoming maintenance strategy being adopted by K-ENE Tokyo, to ensure smooth change over and continue safe operation.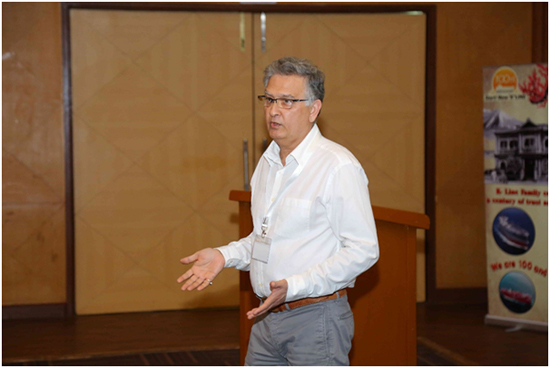 The focus was then shifted to "Technical Incident - Case Study" conducted by Mr. Deepak Seth, GM (FMG) KLSM Singapore, to provide insights into key checking tips for engineers, in enhancing excellence in machinery operation.

Both the groups were then re-grouped, to be broken into further 4 (four) groups, actually the "Teams" to contest for the Centenary Sports Trophy. The teams were distinguished by "OIL" & "GAS" teams, and had a tough competition as the outdoor Team Building Exercise. The winners from the preliminary play-off's, which can also be regarded as Semi-Finals, headed to the Finals, and the onset of twilight, then playing under the floodlit ground with "dew factor" having it's own influence, made the competition interesting, and tougher for the teams. The excitement was great, with the commentators providing continuous coverage sometimes running out of correct words to accurately cover the proceedings. This team building activity was kind of day and night event, and provided a lot of enthusiasm, motivation and excitement to the families and players as well. The trophy was handed over to the winning team by KKK General Manager, Capt. Akihiro Fujimaru and the winning team celebrated their victory in customary style.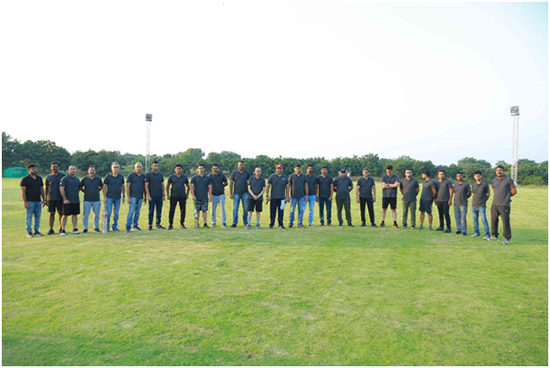 Having finished the cricket, everybody directly headed from the cricket ground to the cocktails & sumptuous dinner. It is impossible for anyone to be in Hyderabad and not have the world famous Hyderabadi Biryani, and other mouth-watering cuisine from its glorious past. The cool evening was perfect setting for the spicy local food, and everyone enjoyed the evening until late, and retired to their rooms, rather reluctantly.

The second day was kicked off by Capt. Santosh Rele explaining the changes, and updates, in the methodology used for Risk Assessment, based on ISO 31000:2018. This was quite informative and useful for Seafarers, for practical implementation onboard vessels.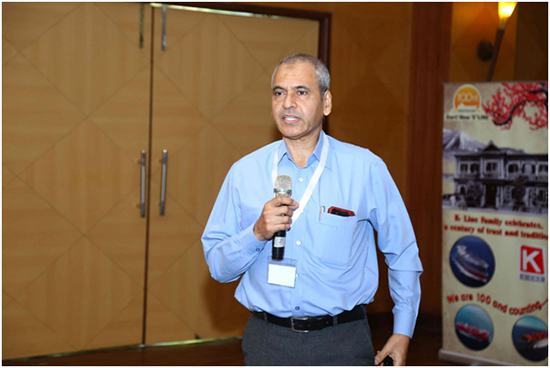 This was followed by Capt. Imtiaz Juvale, Manager ATSI Group, KLSM Singapore, with his presentation on Permit to Work System and related Compliances.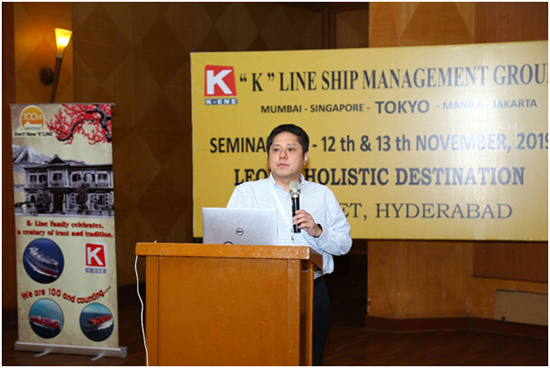 Drug and alcohol abuse and its adverse effects on health & safety was another significant topic discussed. "Recently, this issue has been receiving attention both in the public eye and in government legislation in the industry. K-ENE / KLSM are always proactive in their efforts, to alert their seafarers regarding the adverse impact of any drug and alcohol abuse onboard their ships", articulated Capt Miyazawa, CWG Group Leader, K-ENE Tokyo. At the same time, it was informed that the Drug & Alcohol policy of K-ENE / KLSM is being revised from time to time, to stay in compliance with the industry best practices, and charterers requirements.

Auditing and Training is an integral part of K-ENE Tokyo, and KLSM Singapore. Capt I. A. Juvale, heading the Auditing & Training Team, took the opportunity to share the statistical data concerning audit findings, and summarising the repeated or frequent findings that need to be acted upon – with his presentation titled "Frequent Audit Findings and Improvements".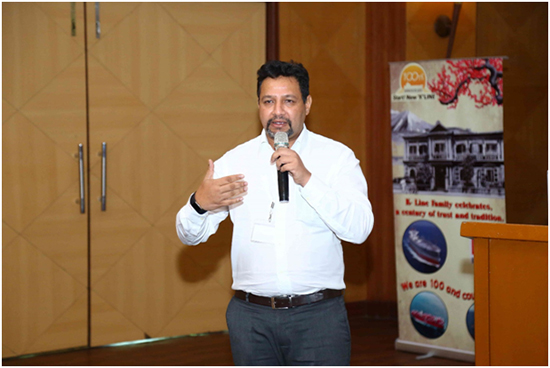 Capt Rajan Mathur then took the stage, and provided insights into the in-house developed Competency Management System ( CMS ), its progress, and it's connection with training, appraisals, and assessments. This CMS has taken years to develop in-house, and complies with the industry standards related to TMSA. Taking the opportunity, a useful interactive session followed and Seafarers discussed their queries related to the recent upgrades in CMS, to their satisfaction.

The session after Lunch break, until Tea, was completely devoted to Reflective Learning, having the topic "People Make Mistakes" conducted by Capt Santosh B Rele. This reflective learning initiative has origins from Shell, as their Partners in Safety program, for achieving incident free operations.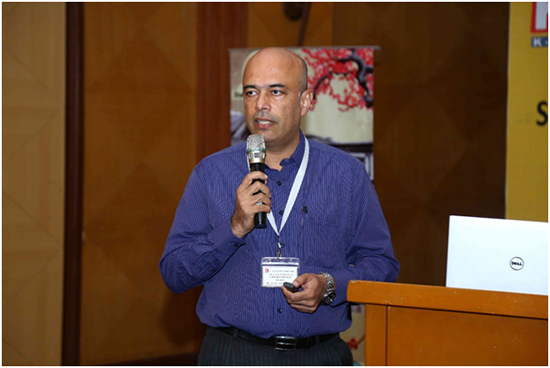 The last session for the day, and for the event, began with case study of LNG ESD-2 Activation, explained by Capt. Pramod Rajakumar, MLNG K-ENE Tokyo. The video clip of an actual incident, available on social media, highlighted the intensity of such event, and associated exposure to risks, for the vessel as well as the crew, and this Video clip assisted in actual understanding of the fall-out from such event, should it occur.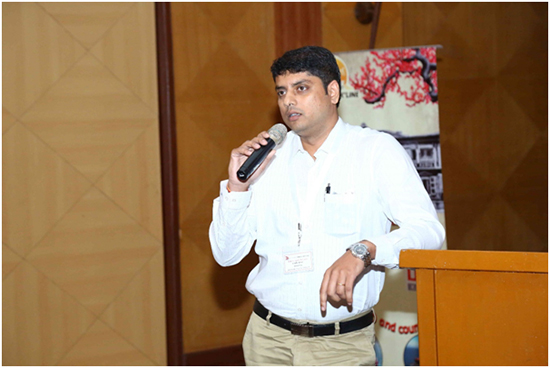 Long serving KLSM Officers, Capt. Sudiptya Bose and Ch-Eng Mr. Anantha K. Meenakshisundaram, shared their journey with the company, and addressed the audience with their remarkable experiences. Both the officers have their career progression with the company, reaching the pinnacle of Seafaring profession on board the vessel. They spoke about their experiences with K-ENE / KLSM, and on the glue that keeps them attached to it.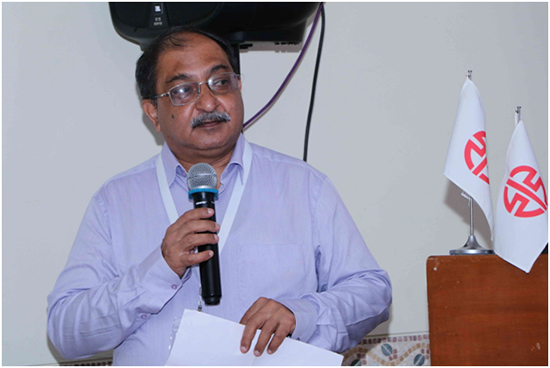 Open Forum was conducted by Capt. Amar C. Galliara, G.M. KLSM India, to collect inputs, feedback, grievances, complaints, and suggestions from the gathering, and provide Company's view points and explanations, as necessary and relevant.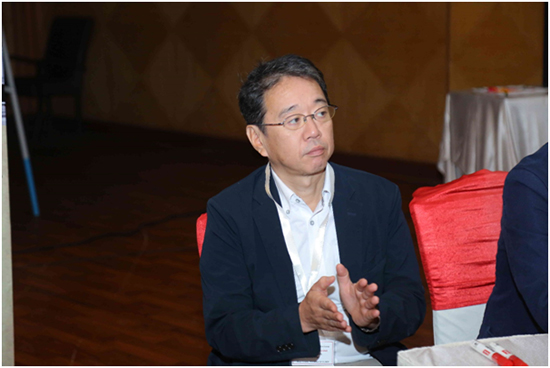 Towards the closing, Capt M Okada, Managing Director of KLSM-Singapore, and Capt. Shoji Fukuda, Director K-ENE Tokyo addressed the seafarers with the company's future plans. They, along with all the senior delegates from KLSM Singapore and K-ENE Tokyo, thanked all the Indian seafarers for their invaluable performance onboard K-ENE / KLSM vessels.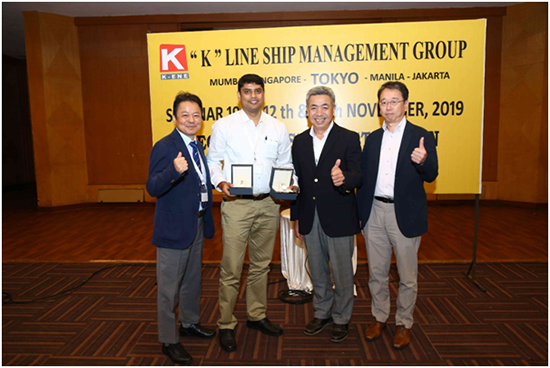 K-ENE / KLSM acknowledges the seafarers for their outstanding performance, loyalty, and cooperation among others. Appreciating them for their efforts, K-ENE / KLSM awarded their long serving employees on completion of 7 years, and also 15 years, with the Company. Contribution and sacrifice by Seafarer's family was recognised through 15 year awards, which were presented jointly to the deserving officer, and his spouse. Mr. Iwane Ogawara - Sr. Managing Director K-ENE Tokyo, Capt. Shoji Fukuda – Director K-ENE Tokyo, and Capt. Masanori Okada – Managing Director KLSM Singapore, handed over the Loyalty Trophy and Award to qualifying Officers.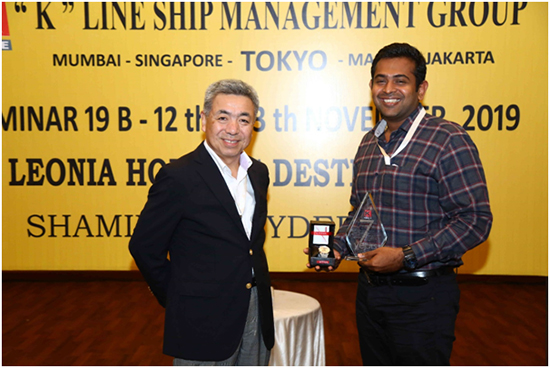 To celebrate the grand success of the seminar, a magnificent cocktail and dinner gala was organised for all the seafarers and the families, at the end of the second day. As the curtains came down on yet another successful K-ENE / KLSM Officers' Meet at this historic location, everyone was satisfied and happy, and ready for the future.