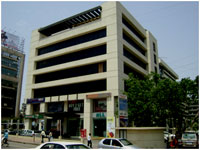 KLMA (India) commenced in house training for "K" Line seafarers in June 2007, while it was still under the umbrella of KLSM (India). On 1st April 2008, KLMA (India) became an independent company, operating under the guidance and instructions of KLMA (Headquarters) in Tokyo.
KLMA (India) is committed in its endeavour of providing state of art services that would exceed customer satisfaction and regulatory requirements. We aim to ensure healthy training environment to "K" Line seafarers and instructors, and impart training that promotes our commitment towards securing protection to human life, property, cargo and environment at sea. We do so through continual improvement in our systems and infra-structure for providing value added training to ensure preparedness that meets future needs of the shipping industry as well as that of "K" Line.
TOP
STATUS
"K"LINE MARITIME ACADEMY (INDIA) has been incorporated on 20th Dec 2007 as a section 25 company. The institute is accredited with ISO 9001:2015 by DNV -GL.
"K" Line Maritime Academy merged with " K" Line Ship management with effect from 1/Sep/2017 and herein after known as "K" Line Ship management (India) Pvt. Ltd. Training Division.
TOP
MISSION
"K" Line Ship management (India) Pvt. Ltd. Training Division serves to prepare the seafarers amply proficient through training programs designed by KLMA Head Quarters for obtaining strong commitments to "K" Line's QSHE policy and to "K:Line SPIRIT (SKILL,PROFESSIONALISM,INTELLEGENCE,RESPONSIBILITY,INNOVATION and TEAMWORK) for keeping best standards in all spheres.
"K" Line Ship management (India) Pvt. Ltd. Training Division aims to provide an outstanding maritime training opportunity to the Indian and Bangladeshi seafarers in addition to developing and nurturing a future generation of competent professional seafarers to carry out all the difficult tasks of the shipping industry.
"K" Line Ship management (India) Pvt. Ltd. Training Division believes in continuous improvisations in systems, infrastructure and resources so that the future needs are fulfilled and any eventuality can be addressed positively. We attach importance to training and up-gradation of skills.

TOP

ACTIVITIES

In KLSM TRAINING DIVISION (INDIA) each in-house training course is carried out in accordance with "K" Line's fundamental philosophy that fosters the development of "K" Line seafarers, regardless of nationality by using KLMA HQ guided Training Matrix and Syllabus.
The seafarers of today face challenges that earlier generations did not. We live and work in an era of rapidly growing and shifting processes, constantly posed with the task of keeping pace with the growth and changes characterising the shipping industry in terms of "K" Line standards.

TOP

FACULTY

Faculty of "K" LINE SHIPMANAGEMENT (INDIA) PVT. LTD. – TRAINING DIVISION
| | |
| --- | --- |
| | Capt. Surendra Saxena |
| | |
| | Mr. Rajender Bist |