SMALL STEPS LEAD TO GREATER HEIGHTS!

KLSM 18B Seminar held in Goa 2018

KLSM Group's success - solely depends on its assets – The Seafarers

KLSM 18A Seminar held in Mumbai 2018

KLSM Group Safety is of paramount importance that cannot be compromised for any shipping company

KLSM 17B Seminar held in Goa 2017

The shipping industry is undergoing constant technical and legislative improvements with upcoming

KLSM 17A Seminar held in Mumbai 2017

K Line Ship Management Group, having the head office in Tokyo, and branches / subsidiaries in Singapore, Manila, Mumbai

KLSM 16B Seminar held in Goa on 15 & 16 of November 2016

K-Line Ship Management (KLSM) held its 16th Annual Seminar in India, 2nd Edition, "Seminar 16B" in Goa on November 15 and 16.

KLSM 16A Seminar held in Mumbai on 12 & 13 of July 2016

'K' Line Ship Management (KLSM) recently held the first chapter of their Annual Seminar, a two-day event, to interact with their valued assets – The Seafarers.

KLSM 15B Seminar held in Mumbai on 19th & 20th of November 2015

Praises Seafarers for 'Zero Observations' at Vetting Inspections, Across the Fleet.

KLSM 15A Seminar held in Chennai on 13 & 14 of July 2015

The 15(A) Chennai Seminar was held this year at MGM Resort on 13th & 14th of July, 2015.

KLSM 14B Seminar held in Mumbai on 19 & 20 November 2014

K Line acclaims its seafarers for another step towards the aim of "Zero Accidents" & Zero Injuries".

KLSM 14A Seminar held in Chennai on 14 & 15 July 2014

The 14(A) Chennai Seminar was held this year at MGM Resort on 14th & 15th of July, 2014.

NORDIC RIVER" rescued an injured adventurer from Indian Ocean

One of our managing Ammonia Carrier, M/V "NORDIC RIVER", received an urgent rescue request from RCC Australia at 0150 Local Time on the 11th of July,

KLSM (Tokyo) Organization changes effective from 01st JULY 2014

I would like to inform you of the company board organization changes as per the resolution of Ordinary General Meeting of Shareholders and Board of Directors Meeting on June 26th 2014.

KLSM (India) Expands Into Ship Management Business

KLSM India, proudly announces, that quickly following on the agreement in respect of ship inspection business with "K" Line (India) Pvt Ltd,

KLSM 13B Seminar Held In Mumbai on 21 & 22 November 2013

The KLSM Annual Seminar 13B was held at Hotel Satkar Residency in Thane on 21st and 22nd November, 2013.

KLSM (INDIA) Enters into Agreement with "K" LINE (INDIA) for Ship Inspection Business

KLSM (India) is pleased to announce that we have entered into an agreement with "K" Line (India) Pvt. Ltd.,

KLSM 13A Seminar Held In Chennai on 16 & 17 July 2013

The 13th (A) annual seminar was held at Chennai, at MGM Resort, on the 16th and 17th July 2013.

Change Of Command At KLSM INDIA

In End of March 2013, Capt. Takehiko Ibusuki, C.E.O & M. D. of KLSM INDIA since formation.

Proud Achievement: MLC 2006 Certification

Today 12th Dec. 2012, (12.12.12.) was as historic for us as it is for this century.

KLSM Annual Seminar held in Mumbai 20 & 21 November 12

The 12 th (B) annual seminar was held at Mumbai, Ramada Hotel on the 20th and 21st November 2012.

KLSM Annual Seminar held in Chennai 10 & 11 July '12

The 12 th (A) annual seminar was held at Chennai, Hotel Accord International on the 10th and 11th July 2012.

KLSM Annual Seminar held in Mumbai 28 & 29 November '11

The 11th annual seminar was held at hotel Ramada Powai on the 28th and 29th of Nov 2011.
KLSM Mumbai KKK President Mr Jiro Asakura Visits On Dussera Day The President of K-Line (KKK, Japan), one of the big 3 in Japan
read more...
The third and last of 2011 series of "Quality Improvement Session" ( or Mini-Seminar ) with Senior Officers from KLSM Pool was held at Mumbai
read more...
Having held the first edition of 2011 "Quality Improvement Session" ( or Mini-Seminar ) with Senior Officers from KLSM Pool at Chennai in May, the Second such event was organized at New Delhi on 26/July/2011 at Hyatt Regency.
read more...
The first edition of 2011 "Quality Improvement Session" ( or Mini-Seminar ) with Senior Officers from KLSM Pool was organized at Chennai on 24/May/2011.
read more...
Promoting transparency is the key to better understanding between top management and the employees.
read more...
The second "Senior Officers Quality Improvement Sessions" cum social gathering was held for Western region of India on July 26, 2010
read more...
The first "KLSM Mini Seminar" was held for South India region on May 22, 2010
KLSM 9th Seminar held in Mumbai, 4th & 5th November '09
Panama Consul General Mr. Julio Guardia paid a courtesy visit to KLSM Mumbai office on 1st August 2009.

KLSM : Promoting excellence Chennai seminar underlines efficiency & teamwork

Words from the wise during tough times
Mr. Kuboshima's Mantra: Focus on Training & Quality

BOX Treat Retreat
The families of the seminar participants were not confined to the hotel
rooms- in fact they remained very active, mainly outdoors.

Advocating a
'Slow & Steady'
path to attracting and retaining seagoing staff

Incoming KLSM President's Message: "Your problems are our problems"

To rise rapidly above the safety & quality standards of the industry is the call of the hour

KLSM President Mr. S Maeda

"K" Line Ship Management (India) Pvt Ltd, Mumbai is proud to announce that we are now an ISO certified company since 27th August 2007.

First branch office in Chennai

"K" Line Ship Management Company (India) Pvt Limited (KLSM India) is steaming full ahead and spreading its wings in to reach areas beyond the shores of Mumbai.
Holistic safety approach – Towards Achieving Zero accidents onboard: KLSM Group Safety is of paramount importance that cannot be compromised for any shipping company. Time and again companies create a healthy and safe workplace to reduce issues such as employee attrition and absenteeism in several ways. They budget for several safety improvements and make safety a part of their operational plan thus engendering the trust of their employees. By involving employees in safety decisions – through reporting, committees, walk-through and meetings - this shows that their opinions matters to the companies. And by following through on their inputs and improving safety at company proves quiet tangibly that they care about their well-being. Similarly, employees respond by working harder, showing more pride in their jobs and remaining loyal.

Believing that holistic approach towards safety achieves believing that holistic approach towards safety achieves accidents onboard; K Line Ship management Group organized a 2-day seminar for their sailing staff at The Waterstones Hotel, Mumbai on 10th & 11th July. The main focus of the seminar was to express their gratitude towards the seafarers for achieving accidents onboard targets.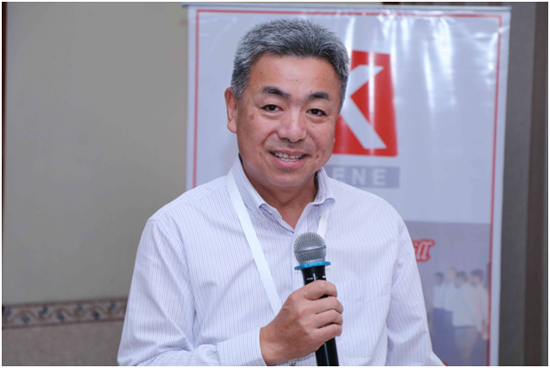 Mr. Iwane Ogawara, Managing Director, K-ENE, Tokyo welcomed all the delegates and spoke about the recent developments ant KLSM group that included the planned expansion, and delivery of two new ships – TEDORIGAWA and TONEGAWA. In fact the delivery of TONEGAWA coincided with the seminar itself, informed Mr. Ogawara which was the reason for our President Capt. Toshikazu Saito missing to attend the event altogether.

Appreciating the contribution of the Indian seafarers towards running the ships safely, MR. Ogawara said, "We are successfully achieved reduction in accident rates, which are amongst the best compared to even the industry average. This was shown by facts and figures in a presentation. I appreciate your due diligence in performance which was improved the K Line rating for TMSA, and also with OCIMF. Please continue the good work already in hand".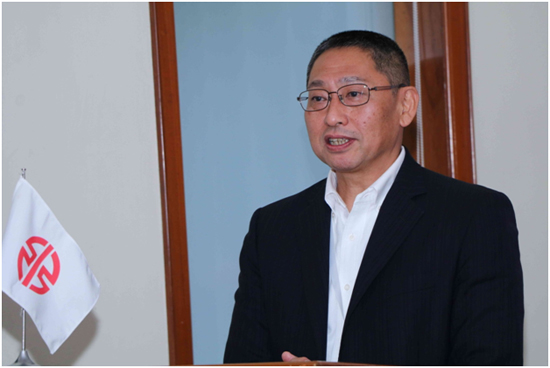 In his speech Capt. K. Aya, Executive Officer, K Line, Tokyo mentioned about his long association of working with K Line initially, and then with KLSM as a marine superintendent, and now back to K Line as an Executive officer. He was grateful to the Indian employees for their good performance and looked forward to continue associating with them in the years to come.

"The Indian employees have achieved many milestones for the company and adding a feather in the cap for K Line, at the same time assuring K-ENE of his staunch support for the years to come ahead. With the planned expansion of energy vessels going on, we expect more Indians to be employed, and trained as good K Liner, K-ENE officers in the long run "stated Capt. Aya.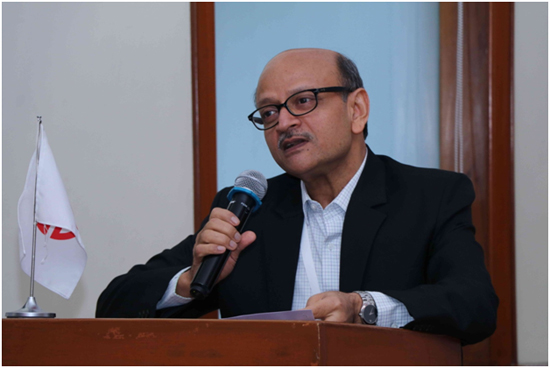 Capt. S.K. Goyal, CEO & Managing Director, KLSM (India) welcomed all the seafarers, delegates and senior management from all over the globe. "For us, the seafarers who achieved the longest accident – free mileage are very important and they are our strength. This annual meet is the right forum for us to greet them and most importantly thank them. Additionally, this is the best platform for the seafarers to meet each other to discuss ideas, share knowledge and interact and know the company better: expressed Capt. Goyal.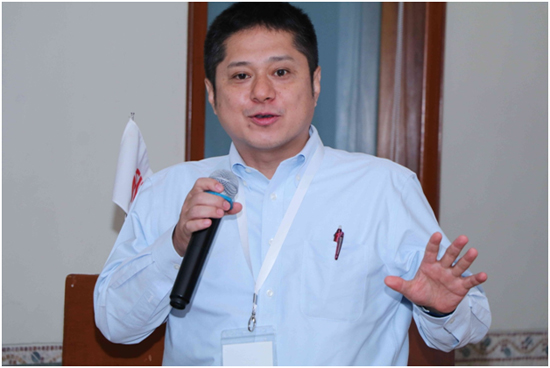 Capt. Miyazawa, Group Leader, CWG, K-ENE Tokyo, spoke on crewing related information where he informed the seafarers have done the best for their company, now it is the company's turn to acknowledge their efforts. "Rest hours have to be utilized appropriately, for your own betterment, said Capt. Miyazawa. Elaborating on the same, he addressed the seafarers should look after their own health, so that they can work safely and be more productive. And reminded them, "You have your family waiting for you to return back home safely."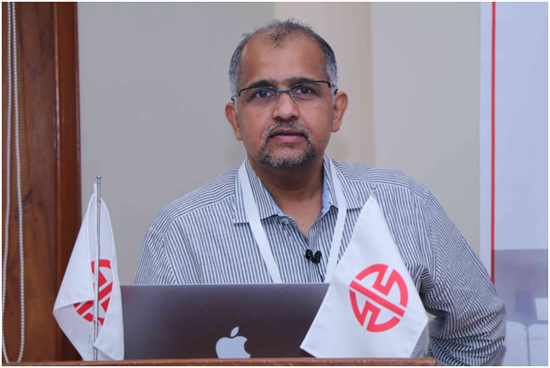 Stressing more to safety culture Capt. Rele QCG, K-ENE, Tokyo, explained the safety policies to the gathering. He stated, "Though we have achieved success in safety this legacy should continue further for many years to come"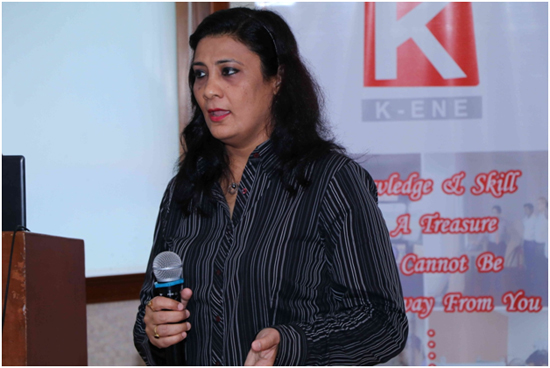 A special session on group medical insurance for seafarers and their families was held. Universal Sompo representative explained about the group policy in detail – about coverage, inclusions, exclusions, limitations and so on. This insurance covers the seafarer and their families (Wife + 2 dependent children up to the age of 23 years). The representative further explained about the policy terms and conditions, procedures etc.

The entire purpose of having a representative from Sompo was to ensure clarity for all seafarers, about the policy matters which could be better answered directly by a representative from the insurance company.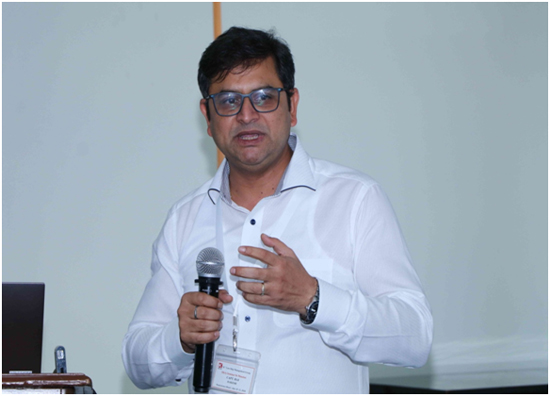 Post lunch, the delegates were separated in two groups – Deck officers and Engine Offices. Capt, Rakesh Rai, MSG, K-ENE Tokyo, discussed a case study on Ballast Pump water Hammering incident.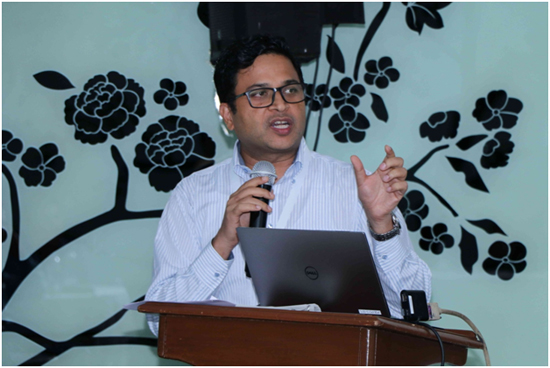 Capt. Bhaumik, QCG, K-ENE, talked about the case study on situational awareness that highlighted the recent incidents relating to ballast water management system. "Case studies are excellent learning tools. They help you to learn to avoid making mistakes by studying other's mistakes" said Capt. Bhaumik. He also explained scientific Ship board procedure (TMSA 3): ECDIS 2018.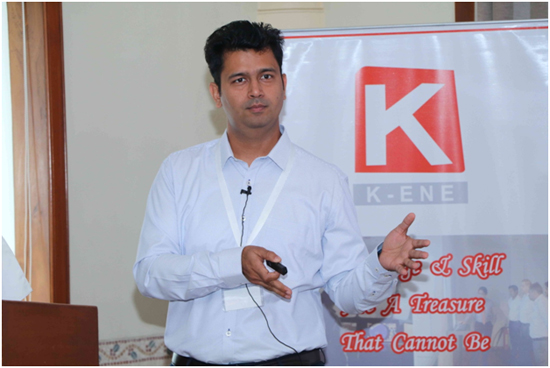 Other case studies on deck incidents in Fleet and "Handling port official at Japanese ports "was delivered by Capt. Pranshu, KLSM SGP and K-ENE MSG respectively.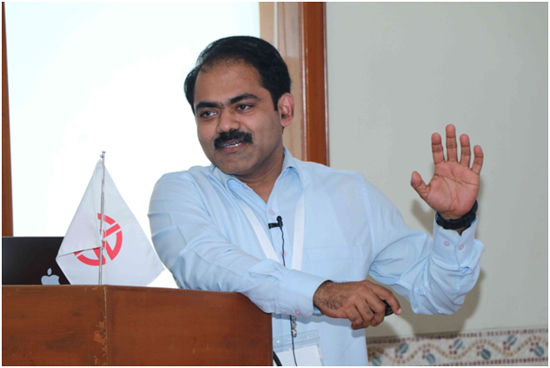 On the engine side, Mr. Saji, TLNG K-ENE, Tokyo made the seafarers aware of upcoming regulations and their implications.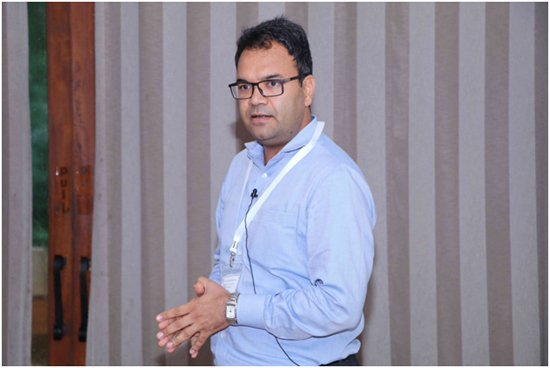 CE MR. Vishal Sharma, TSI, K-ENE Tokyo, gave a brilliant presentation on the subject of Human Element and Aging machineries, which was well received by all.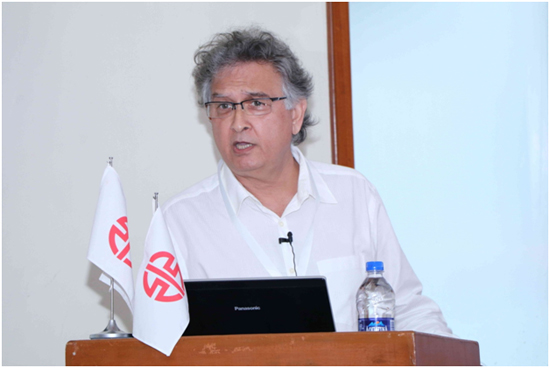 CE Deepak Seth, Fleet Manager, KLSM Singapore, presented a case study about purifier and main Air Compressor, which was very informative to the audience, and very important information for creating awareness for preventing such incidents.

Day 2 started with a workshop on Behavioral Based Safety (BBS) by Capt. Rele. He said, "BBS observation and feedback process can be an effective tool to reduce injuries and improve an organization's safety culture.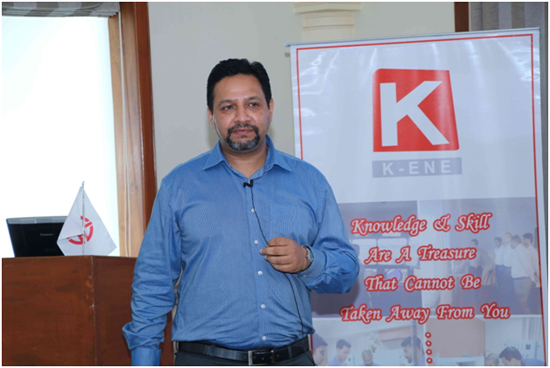 Learning is a never ending process it is said. Likewise, it is good to train yourself continuously for your own betterment. Keeping this in mind Capt. Rajan Mathur, KLSM Singapore took a session on Training and Assessments.

Cyber threat has more dangerous than Somalia pirates now. Everywhere business is investing a remarkable amount of money on hiring Security professionals, maintaining customer privacy and avoiding ransom ware attacks. To tackle this Capt. Bhaumik along with Capt. Pranshu, explained the officers the new challenges to cyber security.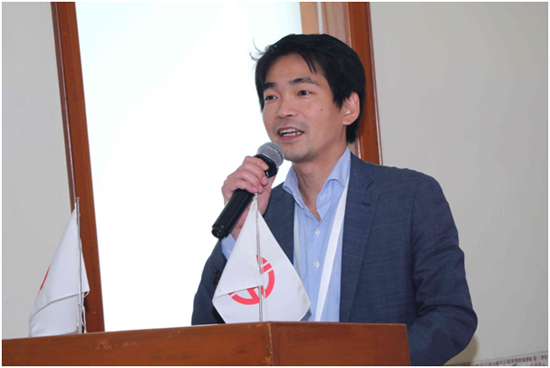 Capt. Takayuki Saito, MHRG, K LINE, Tokyo, and Capt. Shoji Fukuda, Managing Director, KLSM SGP addressed the gathering and appreciated the efforts put in by all its staffs for the success of the organization.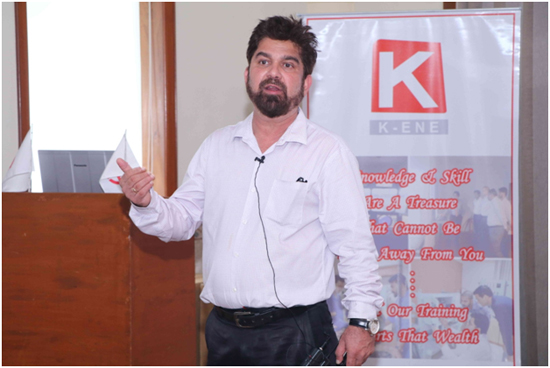 Capt Sunil Bhadsavle gave a brilliant presentation on Training and the way ahead, explaining the various courses, and aims of the Training Division, to impart knowledge to our staff. Training being something, which is knowledge and which will always remain with an individual lifelong. He urged everyone to come and attend the various courses, and increase their knowledge.
Capt. Amar Galliara, General Manager, KLSM, India arranged an Open Forum which formed the best platform for the seafarers to share their grievances, knowledge and feedback with KLSM Group's top management. The interactive session voiced the seafarer's views, opinions, suggestions, and concerns etc. which were discussed by the top management to enhance the seafarers comfort level and belonging with the company – onboard, as well as ashore.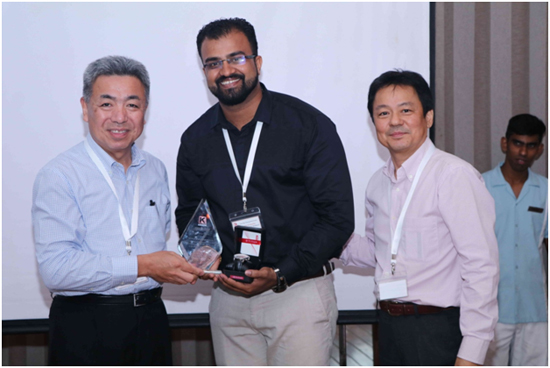 KLSM Group has always believed in giving credit to its employees for their endless efforts and contributions towards the company. This year, several such seafarers were honored with long service loyalty awards at the seminar, for completing 7 & 15 years respectively with the company. It was indeed a proud moment for both – the seafarers and the company, thereby making the end to yet another successful seminar by KLSM group. Such awards also help in creating motivation for the other employees to put their best foot forward.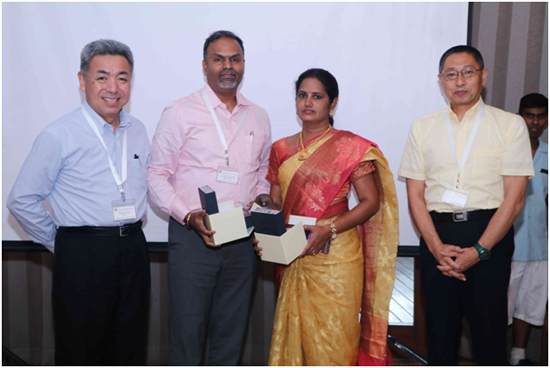 The 2nd day seminar ended with a gala night followed by cocktails and dinner for the officers along with their families for both the days to celebrate the grand success of the seminar.